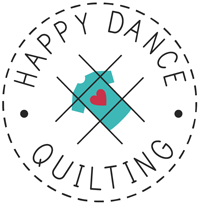 ---
Feel free to call or text us at (502) 305 5288 if you have any questions!

Neatly fold your quilt top and backing fabric (if providing your own). Place them in a bag, such as a kitchen bag, for added protection.
IMPORTANT!
Please make sure any provided backing fabric is at least 8″ larger per dimension than the quilt top (ex: for an 80×80 quilt top, the backing should be 88×88). Otherwise, we cannot use it.
---
Package securely in a box. Include your name and contact info on a piece of paper inside.
Shipping Tips
Use a sturdy box that was meant for shipping.
Try not to leave any empty air in your box. In addition to increasing shipping costs, empty air causes a weakness that can result in tearing and collapsing. If your box is too big, use some spare shipping materials to fill it up, or cut the box down along the top corners so that the flaps lay down right on top of the contents.
Tape down all open edges of the box top and bottom.
You should be able to kick the box and drop something heavy on it without hurting anything.
---

You can drop your order off at our Louisville location and save on shipping! Please use the button below to set up an appointment.
Schedule an Appointment
Or, send your quilt top to:
Happy Dance Quilting
650 South Shelby St
Louisville KY 40202
We'll keep you in the loop and let you know when it has safely arrived. And, of course, you are always free to contact us at any stage of the process!